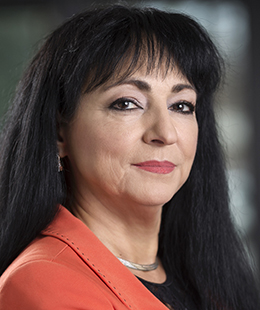 22 October, Speaker
Krasimira Chemishanska
Country Director of Amgen Bulgaria
Dr. Chemishanska is a business leader in the pharmaceutical industry with more than 20 years of experience on the Bulgarian market, taking senior positions in several multinational pharmaceutical companies.
She is a Country Director of Amgen Bulgaria since 2009. She has been responsible for opening the new Amgen affiliate, establishing Amgen's operations, setting up the organization and developing the business in the country.
Krassimira graduated Medicine from the Medical University in Sofia, obtained a Diploma in Marketing, followed by a Master Degree in Business Administration from the International Business School and a Master Degree in General Management from the City University of Seattle.
She is holding following prestigious awards:
"Golden Seal for Innovative Management and Social Responsibility" & "Elected Honorary Member" by the Council of the European business, scientific and cultural community and Certificate of Appreciation, United States, Department of Commerce, for "her tireless efforts to strengthen U.S.-Bulgaria bilateral trade and investment in healthcare sector